25 May 2021 - Rahel Arnold
My fascination with Computer Science
Student Stories
Hey Rahel! We are so happy that you are with us today, can you introduce yourself and tell us about yourself?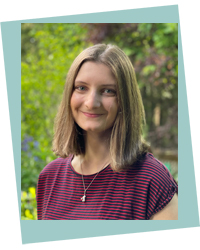 Hello everyone 🙂 My name is Rahel, and I am from Basel. I have been studying Computer Science at the University of Basel since the autumn semester of 2017. After graduating with a Bachelor's degree in January 2021, I am now in the Master's program. I attended the high school in Oberwil, focusing on mathematics and physics, and computer science as a supplementary subject. In my free time, I always have a lot on my mind: I have been practicing roller figure skating since I was little and nowadays I do sports at least five times a week. At the Basel Fasnacht, I play the drums in a big "clique". Friendships are also important to me: I love meeting up with my friends (in covid-free times) and experiencing unique moments with them. During the holidays, I love to travel and visit new places and get to know cultures.
When was your first exposure to Computer Science?
The first time I heard about computer science was probably in the 6th grade. In the sixth form, we had computer science as a school subject and learned how to use a computer and the Microsoft Office programs. In any case, I already found joy in computers there. In the following semester, Computer Science 2 was offered as a free subject, which I took again. Since then, at the latest, I have been fascinated by technology. I love working with computers. I will never forget the joy I felt when I got my first laptop and set it up. More and more I was asked for help at home when there were problems with the computer or the internet. Even today, I still get called when the printer does not work, although my friends and family know exactly that this is not what fascinates me and what I am learning in my studies.
Women often approach problems/tasks with a different attitude than men and every single one of them, in my opinion, deserves to pursue her dream. So no one should be held back by a social image.
What made you decide to join University of Basel and specifically DMI?
As I have already told you, I chose the supplementary subject of computer science at high school. During this year, we gained various insights into the world of computer science. The number of women taking the subject was relatively similar to the proportion of women majoring in mathematics and physics. I immediately noticed that many of my classmates already brought a great deal of prior knowledge to the class, which was not the case for me at all. Even the first "Hello World" in Java was entirely new for me. Our class teacher took the class on excursions to ETH again and again during the 3.5 years. We were also all encouraged to participate in the information day at the University of Basel, where I visited the DMI located in Spiegelgasse. It was immediately apparent that I would choose Basel if a decision had to be made between Basel and Zurich. The studies in Basel seemed much more practice-oriented and personal, which later clearly proved to be true. When deciding what I want to study, I thought back to the info day and remembered the DMI. So it was clear to me relatively quickly that I would take the Computer Science degree program. The possibility of staying in Basel, where my whole life takes place, and the more practical and personal studies offered, were the apparent deciding factors.
What is the highlight of Computer Science field in your opinion?
What I find remarkable about our field is the diversity. In computer science, there are many different directions that you can pursue. So you always have the opportunity to learn something new. I also think it is excellent that computer science is constantly evolving. Personally, I am very enthusiastic about distributed systems at the moment.
We know you have been active in many different projects and activities. Which of them is the highlight of your studies so far?
During my time at the University of Basel, my most considerable success was winning the Innovation Basel Competition 2020 with the City Stories project together with Professor Schuldt, my supervisor Loris Sauter and Noah Regenass (University Library – creator of the Merian model in 3D). I had the opportunity to write my bachelor thesis in the DBIS (Databases and Information Systems) group. My task was to integrate the 3D model of the Merian Plan into the app GoFind. The smartphone application allows you to travel back in time and view historical images of Basel. For this purpose, vitrivr, a search engine of the DBIS group, is used. In this app, the search is carried out via GPS data. During my work, I succeeded in expanding the previous function of displaying historical images with various historical plans in 2D of the city of Basel as well as the 3D model of the Merian Plan. As a result, it is now possible to display the cityscape in the city center of Basel via AR as Matthäus Merian drew the city in 1615. Two examples: Standing in front of the Münster cathedral, the façade of the Merian Plan is displayed above the current building. Alternatively, if the app is used at the Schifflände with a view of the Mittlere Brücke, the Rhine Gate, which no longer stands today, is shown via augmented reality. During my work, Loris told me about the competition, and I was immediately enthusiastic. That the City Stories project subsequently won was an enormous pleasure and honor for me. Furthermore, I was delighted that I could contribute to this win with my Bachelor's thesis.
How diverse do you see the Computer Science field in general and also at our university? Do you think more women in our field could benefit the computer science community?
Personally, I think the department has a lot to offer in terms of computer science. Seven research groups are working on various studies and projects. I am convinced that even more women would benefit the computer science community. Women often approach problems/tasks with a different attitude than men and every single one of them, in my opinion, deserves to pursue her dream. So no one should be held back by a social image. I also think it is great that we have a female professor working in our department.
What is your dream job or career?
My dream job would probably be at Google. I would love to work for this big company, which is located all over the world. Since I currently enjoy working with databases and information systems, I would also see my dream job in this field, for example, as a data scientist.
If you could choose the next speaker of We are CS event, regardless of accessibility, who would it be?
I would find it very exciting to hear from the first woman who successfully graduated from the University of Basel with a degree in computer science how she dealt with being the only woman at that time. A big (probably unrealistic) dream of mine would be to hear a talk by Marissa Mayer and have the opportunity to ask her questions. Marissa Mayer was vice-president of Google before she became CEO of Yahoo! I think it is also exciting that she was pregnant at the time she joined Yahoo!.
Thank you for spending time with us. Do you have something else to add?
When I started my studies, the proportion of women was about 10% in my year. So I was positively surprised, as I expected an even smaller percentage. When I think back to it now, I find it a pity that even the 10% made me happy. Shouldn't it be the other way round? Why was it only 10%? It would indeed be crucial for even more women to pursue and want to study computer science to enrich the aforementioned different view of men and women in this field in this day and age. Therefore, I very much hope that the number of women will continue to increase.